Asia Smart City Conference 2018
The 7th Asia Smart City Conference
Last updated date:2019/6/7
Dates of the 7th Asia Smart City Conference: November 13-15,2018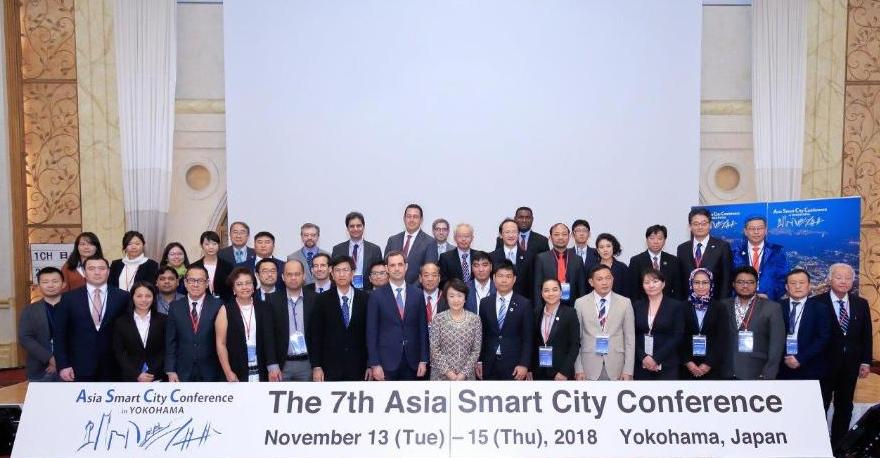 The Asia Smart City Conference (ASCC) is an international conference that brings together city leaders in Asia and representatives from international organizations, academic institutions, and private companies, aiming at establishing a knowledge hub for Smart Cities. At this conference, city leaders will share their vision for growth as well as their current challenges and needs; private companies and academic institutions will propose innovative solutions; international organizations will offer programs to support efforts by cities and private companies; and various best practices from around the world will be shared.
The conference this year welcomed a record 500 participants from some 30 cities and national-level organizations across 14 countries, including delegates from local governments, representatives from the private sector and academia, and other related stakeholders.
◆ Overview
The 7th Asia Smart City Conference,under the theme of"Fostering a Marketplace for Co-innovation,"was held on November 13-15 with the support of the World Bank Tokyo Development Learning Center(TDLC)and Asian Development Bank Institute(ADBI).
As the international community works to reach the Sustainable Development Goals(SDGs)adopted by the United Nations in 2015,the City of Yokohama,designated as an"SDGs Future City"that promotes activities towards achieving the Goals,hosted the Conference.
◆ Materials
◆ Site visit
3 site visit courses on Day1 (13 Nov) at ASCC.
Course A: New Yokohama City Hall -Development of a New City Hall (Completion in 2020)-

Course B: Water and Environment Solution Hub -Hokubu-Daini Wastewater Treatment Plant and Hokubu Sludge Treatment Plant-
Course C: From Waste to Energy -Tsuzuki Incineration Plant, Midori Recyclable Resources Separation Center-

◆Co-located Events
1. Yokohama Info-Market[DAY2]從10:00到16:00[DAY3]從9:30到14:00
In 2017, YOKOHAMA URBAN SOLUTION ALLIANCE (YUSA) was founded aiming at contributing to solving urban problems in emerging countries and creating business opportunities for Yokohama based companies.
The event, which is organized in collaboration with Yokohama City and YUSA, introduced the technology of companies in Yokohama as well as Yokohama city's know-how on urban development,
In addition, opportunities for networking between Japanese businesses and participants from overseas, who are seeking solutions for urban issues, was provided.
2. Business Forum"Sustainable City with SDGs supported by Enterprise and Local government" 
[DAY2]10:30-12:30
Nikkei ESG Management Forum of Nikkei Business Publications(Nikkei BP)organized an event,`Business Forum',which theme will be"Sustainable City with SDGs supported by Enterprise and Local government。" Nikkei ESG Management Forum is an organization of around 140 enterprises which advocate ESG management. In this event,executives of World Bank and Asia Development Bank(ADB)was invited and World Bank introduced how to utilize a new concept,`Inclusive Wealth',for private companies and local government,while Asia Development Bank(ADB)introduced ADB's SDGs activities and their expectations for Japanese companies.
3. Yokohama Youth Event 2018[DAY2]從14:00到16:30
SMEs with outstanding environmental technology play critical roles in international technical cooperation.
In this event, Yokohama City University students presented the results of their research on the issues for Japanese SMEs to expand overseas business and future prospects. This event is sponsored by Nissin Co., Ltd.
---------------------------------------------------------
[Inquity]
Asia Smart City Conference Management Office,
Development Cooperation Department,
International Affairs Bureau
TEL: +81-45-671-4703
FAX: +81-45-664-7145
MAIL: [email protected]