Asia Smart City Conference 2015
Last updated date:2019/2/8
The City of Yokohama,which is selected as"Future City"by Cabinet Office,has been holding the Asia Smart City Conference every year since 2012 as part of the Y-PORT project,in which the City of Yokohama accelerates overseas operations of companies based in Yokohama and shares its know-how on smart cities.
Participated by not only 21 Asian cities but also more than 30 supporting agencies including the Government of Japan, academic institutions and private enterprises, the conference was a great success. A wealth of expertise and knowledge infused into the discussion made the conference all the more significant. "Yokohama Declaration"which we wrapped up the discussion at the conference was adopted by the participants,and the declaration was proposed to the Chair's Summary of the 6th Asia Pacific Urban Forum(APUF-6)of the United Nations Economic and Social Commission for Asia and the Pacific held in Jakarta,Indonesia on October 21st.

Outline Report(PDF:962KB)
* You can check "Yokohama Declaration" on last page of the Outline Report.

The 4th Asia Smart City Conference Report(PDF:6,426KB)
The 4th Asia Smart City Conference
0 The 4th Asia Smart City Conference
(1)Date:
October 20th, 2015, 9:30-17:00
(2)Place:
InterContinental Yokohama Grand Hotel 
(1-1-1 Minatomirai, Nishi-ku Yokohama, 220 8522 JAPAN)
(3)Hosted by :
City of Yokohama
(4)Supported by:
Cabinet Office, Japan/ Ministry of Foreign Affairs of Japan/ Ministry of Economy, Trade and Industry, Japan/ Ministry of Land, Infrastructure, Transport and Tourism, Japan /Ministry of the Environment , Japan/Institute for Global Environmental Strategies(IGES)/Yokohama City University/Japan International Cooperation Agency (JICA)
(5)Participants:
Asian Cities:
Phnom Penh(Cambodia),Batam(Indonesia),Batam Indonesia Free Zone Authority(Indonesia),Makassar(Indonesia),Kitakyushu(Japan),Vientiane(Laos),Melaka(Malaysia),Penang(Malaysia),Seberang Perai(Malaysia),Ulaanbaatar(Mongolia),Baguio(Philippines),Province of Cebu(MCDCB)(Philippines),Cebu(Philippines),Makati(Philippines),San Fernando(Philippines),Colombo(Sri Lanka),Bangkok(Thailand),Rayong(Thailand),Da Nang(Vietnam),Hue(Vietnam),Yokohama(Japan)
*21cities, in alphabetical order by nation
Japanese Government&International Organizations:
Japanese Government(Cabinet Office,Japan/Cabinet Secretariat,Japan/Ministry of Foreign Affairs of Japan/Ministry of Economy,Trade and Industry,Japan/Ministry of Land,Infrastructure,Transport and Tourism,Japan/Ministry of the Environment,Japan),Asian Development Bank(ADB)/C40 Cities Climate Leadership Group/CITYNET/ICLEI-Local Governments for Sustainability/Japan Bank for International Cooperation(JBIC)/Japan International Cooperation Agency(JICA)/Organisation for Economic Co-operation and Development(OECD)/UN-HABITAT/World Bank Group/Yokohama City University/Yokohama National University and so on ※Invitation only
(6)Agenda
9:30-11:30 Thematic meetings
12:00-14:00 Lunch & Business Matching
*(Display unique technologies and services of private enterprises
in Yokohama at the lunch venue)
14:00-14:15 Group Photo
14:15-14:20 Opening Speech Ms. Fumiko Hayashi, Mayor, City of Yokohama
14:20-14:40 Keynote Speech Ministry of Foreign Affairs, Japan 
Ministry of the Environment, Japan
14:40-14:50 Keynote Speech Mr. Rintaro Tamaki, Deputy Secretary-General,
OECD
14:50-15:20 Networking Break
15:20-16:30 Plenary Meeting
Moderator:Mr. Hideyuki Mori, President, IGES
Panelist:
・Dr. Bindu N. Lohani
・Mr. Yosuke Mochizuki , Director, Nikkei BP Cleantech Institute,
Nikkei Business Publications, Inc.
・Dr. Vijay Jagannathan, Secretary General, CITYNET /
Senior Fellow, World Resources Institute
・Dr. Alfonso Vegara,President,Fundación Metrópoli
・City of Yokohama 
16:30-16:45 Special Presentation Ms. Maria Carmela D. Locsin,
Director General,
Sustainable Development and
Climate Change, ADB
16:45-16:55 Declaration of the 4th Asia Smart City Conference
16:55-17:00 Closing Remarks Prof. Hironori Hamanaka,
Chair, Board of Directors, IGES
0 Plenary meeting was broadcasted in English.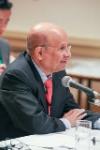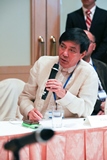 ---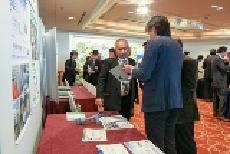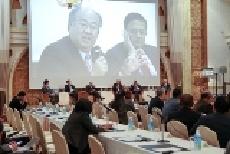 ---
CV & Presentation for Thematic Meetings